The mission of the Cathedral's Outreach Ministry is to respect and acknowledge Christ's presence in all persons;
to serve Christ by serving his people in our neighborhood, city and world;
and to encourage others in this vision as we reach toward the kingdom of God.
In the Topeka Community
Here are some of the ways our parish reaches out to those in the Topeka community:
Sandwich Ministry – Sack lunches distributed on Saturday from 8:30-11:30 a.m.
Harvesters BackSnack Program – providing backpacks of food to low-income children at area schools for the weekend, to combat weekend hunger.
Food Sunday – a monthly collection of non-perishable food items to be distributed to Let's Help and Doorstep in Topeka.
Let's Help lunches – cooking and serving lunch at Let's Help several times throughout the year
Special collections for disaster relief, aid to military families and other projects when the need arises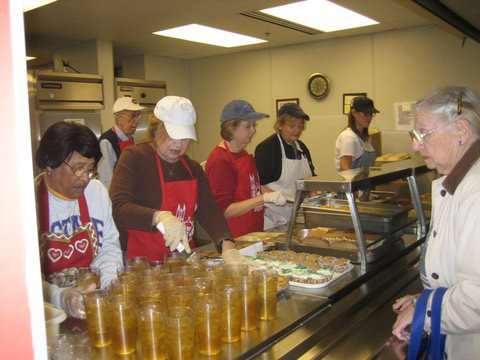 Beyond Topeka
Grace Cathedral supports mission in two countries: Haiti; through the Haiti Episcopal Learning Program (H.E.L.P.); and Kansas 2 Kenya, a health and betterment program for the people of Kenya, East Africa.
Many organizations and groups have benefited from this year's Cathedral Outreach Ministry. To date, the following groups have received monetary and/or volunteer assistance from Grace Cathedral:
Let's Help
Doorstep
Topeka Rescue Mission
Marian Clinic
Cornerstone
Cathedral Saturday Sack Lunch Program
Episcopal Relief and Development (ERD)
Warm Little Ones
Salvation Army
Dean's Discretionary Fund
Haitian Project
Habitat for Humanity
Kansas 2 Kenya
July 4 (Ks. Nat'l Guard support fund
Tabor College (special collection)
Kansas Seminarians
Kairos (prison ministry)
Baxter Springs Tornado (special collection)
Helping Hands Humane Society
Let's Help Lunch (expense for feeding 4 times per year)
Shepherd Center