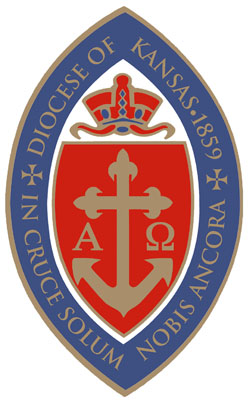 The Episcopal Diocese of Kansas is home to more than 10,000 members in 44 congregations in cities and towns across Eastern Kansas. The mission of the Episcopal Diocese of Kansas is to gather, equip and send disciples of Jesus Christ to witness to God's reconciling love.
The diocese covers the eastern 40 percent of the state of Kansas, extending as far west as Abilene and Wichita. It also includes the cities of Topeka, Lawrence, Manhattan and the entire Kansas City metropolitan area on the Kansas side of the state line.
The diocese was founded in 1859, nearly two years before Kansas statehood, and until 1901 it encompassed the entire state. The east­ern and western portions were split in 1901, and the western section is now the Diocese of Western Kansas.
Bishop Cathleen Chittenden Bascom was ordained and consecrated as the 10th bishop of the diocese on Saturday, March 2, 2019, at Grace Cathedral.