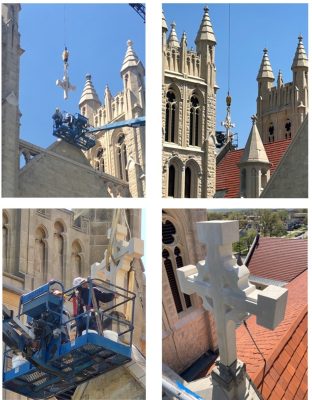 On April 17, with wind speeds below 13 mph, Grace Cathedral had a moment of special joy just days after The Resurrection. In our case as we say in Easter season "The Lord is Risen," we can now say "the new cross is risen".
The Kansas Silverdale limestone cross centered between the towers weighs approximately 550 pounds. The rest of the cathedral is Kansas Silverdale limestone and was last cleaned about 10 years ago. The crane reach required was 214 feet to clear the two pinnacles that were put back in place a few days earlier.
The generous donor who made the replacement cross possible is Jan Buckley. She made a special gift for this some time back, however since the cost for placement would have been three times the amount of the cross itself the project was put on hold. But when lightning struck the tower in August 2021, we were able to piggyback the cross placement with the pinnacle repairs just a few feet away – albeit 100 feet above the ground.
The original cross was removed about 2010 after it had started to come apart. The crew from Mid-Continental Restoration of Ft. Scott, KS., did amazing field work to set the cross in its precise location, also coordinating with the crane crew, electricians, and a welder. Thanks to all, the new cross is risen indeed!