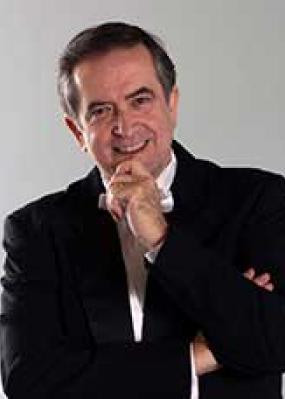 I'm thrilled and grateful to announce the hiring of Dr. Eduardo García-Novelli to serve as Grace Cathedral's next Choirmaster.
Following a busy summer of work and obligations here and abroad, his first Sunday with us will be August 21st, under an annual agreement to run from the end of August to the end of May.
He will be able to join us for worship on July 24th at our 10:30 a.m. service.
"It is a true honor to join the community of faith and the music ministry at Grace Cathedral to serve as Choirmaster," he said. "I look forward to contributing to the rich musical tradition that is a hallmark of this congregation. Come and sing with us!"
Eduardo is the Director of Choral Studies at the University of Kansas, where he directs the graduate program in choral conducting and leads the university choral program. Before coming to Kansas, he served as Professor of Choral Activities and later Chair of the Music Department at Carthage College in Kenosha, WI. Other academic settings include Lamar University in Beaumont, TX; Lee College in Baytown, TX; and Moores School of Music at the University of Houston. It was at Moores that he earned the Doctorate of Musical Arts in Choral Conducting. His Master of Music in Choral Conducting is from the Westminster College of Rider University in Princeton, NJ.
He has a wide range of experiences in sacred music, having led church choirs in the various places his career has taken him since 1995.
Eduardo's spouse is Maria Fiocchi, a high-school Spanish teacher. Their children are Mateo, 25, a consultant for Boston Consulting Group, and Camila, 21, who studies computing at Washington University in St. Louis.
Eduardo will succeed Zachary Cope who has faithfully served as Interim Choirmaster since last summer. However, you will continue to hear and receive Zachary's many gifts for musical ministry at Grace. His title changes to Associate Choirmaster, meaning he will still be a part of the choir, lead the Chorister program, and help with program planning. I couldn't be happier that we are able to retain Zachary – he is deeply known, loved, and respected at the Cathedral.
Eduardo will work closely with both Zachary and Donald Livingston, our incoming Organist, whose first Sunday is June 26th, and whose hiring I announced in an email on April 27th. I am so excited to see these talented and faithful individuals work as a team to continue building on the Cathedral's incredible history of music ministry to the city and the wider diocese.
Please join me in giving thanks for this moment of fulfillment. Let's look forward to some beautiful music!
– Dean Lightcap